It feels like there has been a change in the direction of the wind over the past year, as we see more law firms stepping up their marketing and business development activities. Long gone are those days where cases walked through the door because of reputation alone. It's a bigger, meaner and more competitive legal market out there today.
We have millennials, many of whom are not looking for partnership, a new breed of legal clients who want services 'on demand' and the high street has largely been replaced with high speed internet.
Firms now have to battle with digital marketing, social media, website development and sales training, on top of trying to improve efficiency, culture and staff retention.
With the increase in ABSs, accountancy practices offering legal services, increase in foreign entrants and DIY services, the industry is levelling up. Every challenge also presents us with opportunities and there is still time to adapt your marketing strategy to stay relevant in today's legal marketplace.
So, how do you take advantage of the opportunities? Well, it's about listening to what clients want and then focussing and tracking all your marketing activities. See our top tips below for some ideas on how to get your marketing strategy onto the right track.
Sign Up
* Denotes a required field
Sign up to receive our latest news, insights and how-to-guides to help you run your independent law firm
1. Smile You're Online
Whether you're a partner or a paralegal, clients and professionals like to know who they are dealing with. People will search and look you up online and if you're nowhere to be found, then you're missing a trick. It's a captive audience, a perfect opportunity to display your up to date, professional profile on both your website and LinkedIn. This can showcase your expertise, any awards you may have won, reported cases and articles you've written. After all, if you're not on your firm's website, will the client think your firm doesn't want you on there?
2. To Blog or Vlog
I know you have only probably just gotten used to writing blogs, but remember that Google owns YouTube and therefore creating video blogs (Vlogs) should be a part of your strategy.
Whether it's an article or a video, they both establish you as an expert in a certain area of law and if done right, it will also boost your SEO (see tip 3), raising your website through the ranks on Google. Remember a blog/vlog should always be decent in length and provide something of worth to the reader. A blog or vlog can be on anything e.g. something in the news, an opinion piece, answer to a question or explain a process.
3. SEO – Search Engine Optimisation
If you're unfamiliar with this phrase, then it's time to do some non-legal reading. There are over 2 million legal orientated search queries every day in the UK on Google and if you're not grabbing that opportunity, someone else will!
It's time to get on board with SEO and if your website is looking outdated or it consists of just a handful of pages, with images of generic law libraries, gavels or pixelated photos, then it's time for a re-design. And remember: UK judges don't use gavels!
Grow the authority of your site by producing content that people want to link to and decide what type of work you want to attract. Then focus on producing content surrounding that type of work.
4. Content = Cases
Take responsibility for developing content that is relevant to your practice. If you are the best at what you do, clients expect you to be at the top of the search engines or at the very least, they can find detailed information about you online. Remember though, anyone can have a slick website to attract leads, however it is behind the scenes where you can really make the difference to your reputation. Good quality content and expert guides which answer questions your potential clients may search will help deliver leads to your business. Convert those leads and you've just won a bag full of new cases.
5. Responsive Design
Whether you're in PI, M&A or Family Law, your clients will at some point need to access your website to find your number or an office address. No matter why they are on your firm's website, they are likely to be looking at it on either a mobile or tablet. Gone are the days of searching on desktops alone!
A responsive website design essentially responds to the type of device the user is viewing it on, allowing the information to display in the best format. It doesn't look very professional to have to zoom in to read the text on your site, no matter why they are there. Do you want your clients to think you're not tech savvy?
6. Digital Marketing
Digital marketing is getting slicker, the more you analyse your online efforts the more you can refine your campaigns to increase your conversions. Digital marketing can have a massive impact on finding the right type of work for you. Know what you want and go for it!
Whether you are advertising on Google, Bing, Facebook or LinkedIn, find your target market and try it out.
7. Sealing The Deal
Knowing how your work ends up on your desk and the route it takes to end up there is essential. Converting enquiries and cross-selling will be more important than ever this year, as each lead is getting harder to convert as the competition heats up.
Sales should also no longer be a dirty word. Converting a telephone call or email into a paying client is what it's all about. For example, if someone asks for a quote, never just give them one, discuss their requirements and discuss what they will receive for that price! Go and get your selling shoes on!
8. ROI (Return on Investment)
Remember to track the results of your marketing efforts and campaigns. You can use tracking phone numbers or email addresses as well as looking at the origins of all your new cases taken on. Remember to ask clients how they found you.
If you spend on traditional media, such as print advertising and radio, do you know how much you are getting in return?
To track your ROI you should consider implementing a Customer Relationship Management (CRM) system.
9. Targeted Networking
Are you turning up to local networking events hoping someone will just hand you a new case? While there are benefits to being known locally, there's rarely a good return on investment for the time invested in these types of clubs.
Target your networking and reach out to those people who are in a position to divert work towards you. Coffee, lunch or a drink after work, it's cheaper than you think and will produce better returns!
10. Reviews
We all love seeing reviews of restaurants, hotels, trips and services, but traditionally solicitors have been slow to sign up to these platforms.
However, I see a shift starting to occur, as firms realise it provides a transparent, client orientated approach that places importance on service. Whether it's from another firm, a client, a professional or an existing client, it's good to see feedback from people who have used your service.
I'm sure we have all eaten in restaurants and stayed in hotels which have a couple of terrible reviews, we get used to working out the real ones from the 'career moaners' and firms will start to realise that clients understand this in professional services too.
11. Pricing
There are lots of questions to answer when looking at your pricing strategy, have a think about the following within your business.
When was the last time you looked at or revised your pricing strategy? How elastic is the price of your services across the business? How would the market respond to 5% increase in your fees? Are you offering the client a choice of packages, fixed fee, hourly rate or retainer and explaining the benefits of each of them? Do you offer payment plans with direct debits? Can your clients pay online or via a 24-hour payment line? Are you taking on the profitable work and turning away unprofitable work? What price level is your target market?
Conclusion
Unfortunately, just being a good solicitor is no longer enough, going that extra mile can really help distinguish you and your firm from the crowds. 'Fee earners' no longer just earn fees and those that have a greater understanding of the wider business world will be the ones to shine.
Whilst there is increased competition, there are still lots of opportunities out there!
Remember to listen to your clients and get their feedback after every case. If you don't provide them with what they want, in the way that they want it, your clients will go elsewhere!
Download the PDF version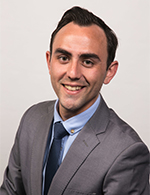 Ben Trott is the Founder and Managing Director at Marketing Lawyers, a full-service marketing agency and consultancy to Law Firms.
Ben is a Law Firm Marketing & Management Consultant, Speaker and Writer. He was previously one of the youngest Directors of a Law Firm in the UK. Sitting on the senior management board for a national law firm, Ben specialises in Law Firm management, marketing, business development and lead generation. Over 36 months he transformed a legal website from bringing in £250k pa in fees to over £2m pa.
Ben has worked for both national corporate and high street law firms as well as a Barristers Chambers. He has a degree in Law and Business and has experience in running an online travel business.
Ben's expertise includes: advising on all central service strategies in running a law firm, online marketing/digital marketing, blogging, headhunting, PR, events, website development/creation, social media, google analytics, customer journey refinement, SEO, CRO, sales & conversion skills, training, explainer videos, Legal 500 / Chambers & Partners submissions, PPC and team management/mentoring.