This not to be missed webinar takes a fresh and exhilarating approach to Corporate Governance – the rules (to keep you out of jail) and the behavioural shift required to create a culture of compliance within the context of business growth and improvement.
Presented by Iain Larkins, founder of Radius Law and Dr William Holden is Chairman of Sewells, we highlight the rules and responsibilities of Directorship and also explore ways to create the right environment and cultural approach to compliance so that it becomes part of the DNA of everyone in the business.
Topics covered:
The relevant laws and the rules of Directorship and the personal responsibilities
What 'good looks like' and the consequences of getting it wrong (and the joy of getting it right)
How to create a 'can do' and 'want to do' compliance culture
What makes people tick and how to engage and motivate your team to willingly do the right thing (compliantly)
Watch today to ensure you are aware of the rules as they apply to you and to find out how to create an "unstoppable and compliant growth culture".
Iain Larkins, Founder, Radius Law
Iain founded Radius Law in September 2013. Radius Law is a new model law firm that embraces technology, flexible working and commercial pragmatic advice. Prior to establishing Radius Law, Iain was the chief lawyer and compliance officer for the Mercedes-Benz UK Group.
In his roles at Mercedes-Benz and at Radius, Iain has had experience of managing regulatory investigations and the implementation of effective compliance programs.
Iain is a regular speaker and legal trainer and has become known for his lively and entertaining presentations.
Outside of the day job Iain has a passion for community projects and has been a non-executive director of a housing association and also established a debt advice centre. This social conscious approach continues in Radius Law with a bold commitment to pay 10% of profits to charity.
Dr William Holden, Founder, Sewells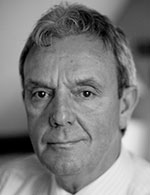 Dr William Holden is Chairman of Sewells, the world's premier business and people development organisation.
In 1990 Will became the sole owner of Sewells. Prior to owning Sewells, Will was the Divisional Vice President (Europe) of the Ryan Insurance Group (that morphed into being the AON Corporation) where he was responsible for growing the sales and accounts of finance and insurance products and services across Europe.
Will is an inspirational and entertaining speaker who has appeared as a motivational and business development expert on TV, radio and other media such as The Times and The Sunday Times.
Sewells is a Business Improvement Organisation that specialises in helping businesses optimise their overall performance and results through positively changing the mind-sets and attitudes of everyone in the organisation through mastering the fundaments of leadership and managing change successfully.