Why Cordery Breach Navigator?
Data breaches are complex business events with significant financial and reputational consequences.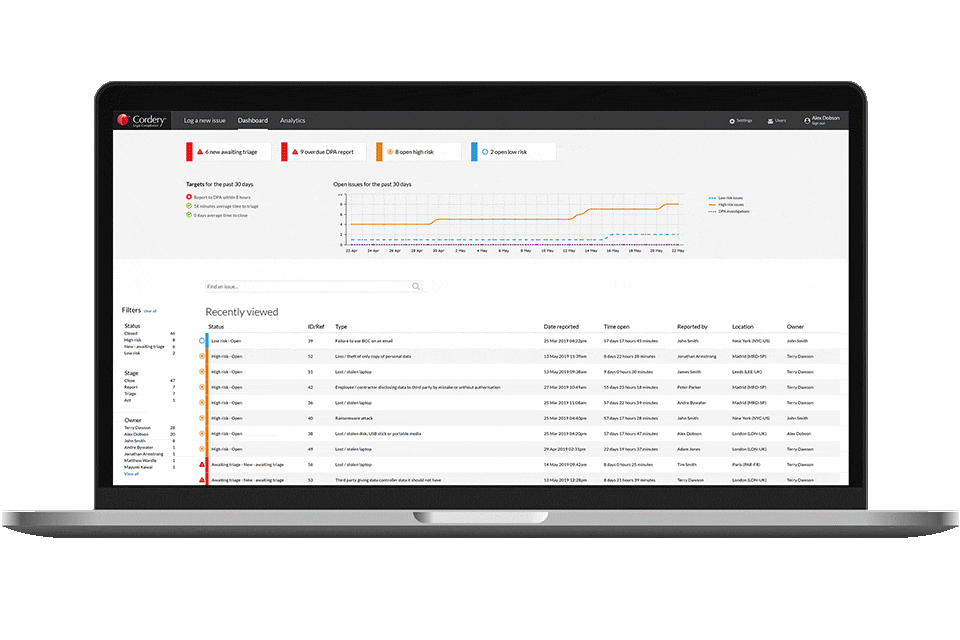 Data protection professionals need to design and implement processes that can respond to a dynamic set of risks, assess and report every incident in full compliance with the law and instil confidence in senior management.
They must be able to guide decision-makers with clear evidence and rationale and ensure that employees recognise data breaches. If a breach does occur, data protection professionals and DPOs in particular, must be confident that the organisation's customers, stakeholders and reputation will be protected.
Find out more

Built with experience
Built on years of best practice working with regulators, compliance teams and law enforcement and enriched with embedded legal expertise for consistent assessment of risk severity and reporting obligations.

Powered by expertise
Informed by direct legal advisory engagement on over 60 live cases and analysis of regulatory findings from the Information Commissioner's Office in the UK and European Data Protection Authorities.

Insight, process and management aligned
Comprehensive breach advice and insight to support effective, evidence-based decision making. Dashboards and tools to quickly identify trends within an organisation's incident profile and support consistent documentation, shared responses and triage reasoning.

Always up to date, accessible, integrated
Regularly updated to reflect changes to legislation and regulatory decisions. Avaliable on cloud-based SaaS and accessible via browser including on mobile devices. APIs provide easy integration with existing incident management or GRC platforms.
Request a Demo
* denotes a required field

`